I am hosting the
Quilting Secrets blog hop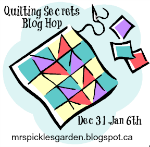 As you know I have lined up 6 wonderfully talented quilters to join me in sharing a few of their Quilting Secrets! Here are the days that these ladies and myself will be posting
In addition to some great hosts I have also lined up some pretty great prizes from the following sponsors.
For those of you wishing to help promote the hop I have the button with its code on the top right of this blog as well as at the bottom of this post. There will be something special in store for those to help spread the word which I will be revealing on the last day of the hop.
Just let me know if you do and your name will go into the draw!