Sundays blocks
Well on Sunday the sun finally came out and this left me feeling ready to sew. I was able to finish up the two blocks that I had cut out on Monday which means I was able to cross a few things off my to-do list
I finally finished the firefly block for the Sew Happy Geek QAL. The QAL is now officially over, but I still plan on getting my blocks done. For some reason or another I really had trouble getting my blocks to be the correct size. My HST's were supposed to be 3.5 and they ended up being 3....so I had to improvise. I think it still turned out pretty well in the end. My seams are not perfect, but good enough for me!
I also got my April block done for another Bee I am in. It is a wonky # sign. Since the monthly host hasn't posted it yet I won't say which bee it is for....lol However it was really easy to make and I used my new favourite fabric to make it. I think it turned out pretty nice
And finally my wonky house is finished up and ready for mailing. I was able to figure out how to machine stitch it. I had been practicing my blanket stitch on just a plain ole piece of fabric and it kept bunching. So I made up a little mock house using some steam a seam stuff and tried the stitch on that. It worked out a lot better with no bunching so I moved onto the real house and guess what.............It think it turned out pretty darn great for my first time ever!
I think next time I would make the stitch a little bit smaller and it isn't perfectly straight, but I love it all the same. Here is the front
And because I think it looks soo cute...here is the back..lol
Okay I better go and get ready. I have an appointment to see a nutritionist today...dr.'s orders which means that is it covered by health care. Yippee why wouldn't I go then? I hope she can give me a few tips to help beat these illnesses from adding to my waistline
J
I am also going to link up with the Manic Monday Linky Party over at SEWHAPPYGEEK. Go on over and take a look to see what everyone is doing :)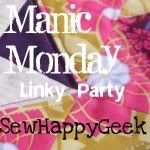 Take care,